ONE ENCHANTING FOREST. THREE MAGICAL MUSHROOMS.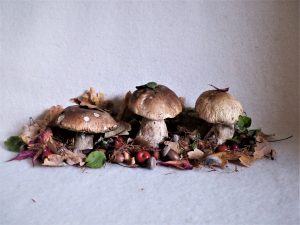 «How people can get their kids to eat mushroom soup?», one day she asked me. «Mine don't even want to put their nose in it!»
«I believe, the easiest way should be to bring them into an enchanting autumn forest full of magical mushrooms, to let them pick up more than they can wear, to let them play, a lot, and when they become very tired and starving, they will be even ready to help with the preparation!»
I am not talking from my personal experience. In my family we have never had problems with «Idontwanttoeatthis». Or almost. But when it comes to mushrooms, I can absolutely understand that feeling: it is something like «How people are able to adore cheeses with an intense flavours and aromas from the beginning? Don't we need to enter smoothly into this range of fragrances?»
«We will take our time, we need to have the whole day in front of us.»
And so it went. The kids were already in the car, the direction was clear: Créon, Entre-deux-Mers, where a huge oak forest full of porcinis was waiting for us!
It was one of those days when you donot need anything but to breathe and to feel happy of the fact that you are alive! 10 o'clock in morning and the sun was still shyly penetrating into the woods. But it was warm, and rich in smells, and wild! And I think, we went slightly crazy.
«It is such an enchanting forest!», the youngest exclaimed. «I think I saw a mushroom and when I went  to pick it up, there was no such thing as a mushroom but a totally another creation.»
«Oh, you are still playing cache-cache!»_ (« hide and seek »), the boys were truly excited by this going out into the wild.
Finally we've got a whole car trunk of porcinis, all kind: babies, their younger sisters & brothers, parents and even grandma & grandpa, small and big, and huge solid staff. On our way back home I tried to remember the story I was used to listen as a little girl, the story that my mom had told me: «The enchanting forest, the three magical mushrooms and the endless creaminess».
«Imagine how naive you should be as a baby to believe in such fairy tales!» _This was my daughter_
«I don't need to imagine it, not at all! We have a record of it: you and me together on our way to the same forest but something like 8 years ago… I was telling you 'The enchanting forest story' and in the end you asked me: 'Encore! Encore!'»
Already at home, everyone received a Chinese paintbrush with some instructions how to clean up the ceps whithout damaging their bodies. Oh mon Dieu! It's a kind of ART 🙂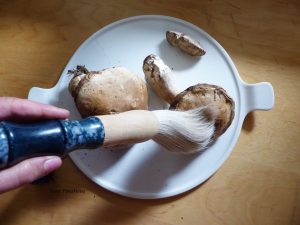 BON APPÉTIT!
And because this story and the soup called «Endless Creaminess» are not only for kids but very much for their parents too, here 2 WINE SUGGESTIONS:
One of my biggest Wine Love from the Graves appellation is the wine from
Château RAHOUL