TO  BE  IN  THE  COMPETITION
It happened back in 2015, after my return from China. I have spent a marvelous dynamic year there and when coming back to Bordeaux I felt as I was a true perpetuum mobile, recharged with energy and motivation. So, that in my daily life I had the impression not to walk but to fly!
Now, when I am talking about this period, I clearly remember how several times per day, flying back and forth to my home, my concentrated stare catched a poster stuck on the wall of the nearby located advertising agency. It was the poster of Open Chateau Piron. Words like «competition», «sport» «wine», «tasting», «professionals» and «amateur»,  key words for a person like me with real interest in wine and tastings, but also with a highly developped competitive spirit, made the event leave real impression on me. One day, driven by my curiosity, I finally took my time and read the content of the poster- I understood what Open Chateau Piron is like. Over the following years and namely during this period around February/March the advertisement of the event had grabed my attention and I felt, how to say, happy and relaxed, that Open Chateau Piron still exists! And I could participate on it one day, too.
In the beginning of February this year when Open Chateau Piron was being advertised again I decided that the time for me to join the competition has come- it was the moment to take the challenge! But there was another one and namely- I needed to find a partner, someone like me- with similar level of knowledge in wine & spirits, and who shares the same motivation and desire to win. So I appointed a «tasting» friend of mine and on the 27th of February I sent him a message with an invitation to join the competition.
Fate, however, can sometimes be really surprising! On the same evening I received an invitation from M.Xavier BOYREAU, organizer of Open Chateau Piron, to join the event as a member of the jury.
***
THE COMPETITION
The idea for Open Chateau Piron belongs to Xavier BOYREAU, co-owner of Chateau Piron, and conceptor. He transmits the positive and competitive spirit and directs the great orchestra Open Chateau Piron, together with his brother Lionel BOYREAU & whole family. After our first meeting I knew theoretically what the tournament is like, but it was during the event itself on 24th of March that I could feel and live its essence while attending it personally.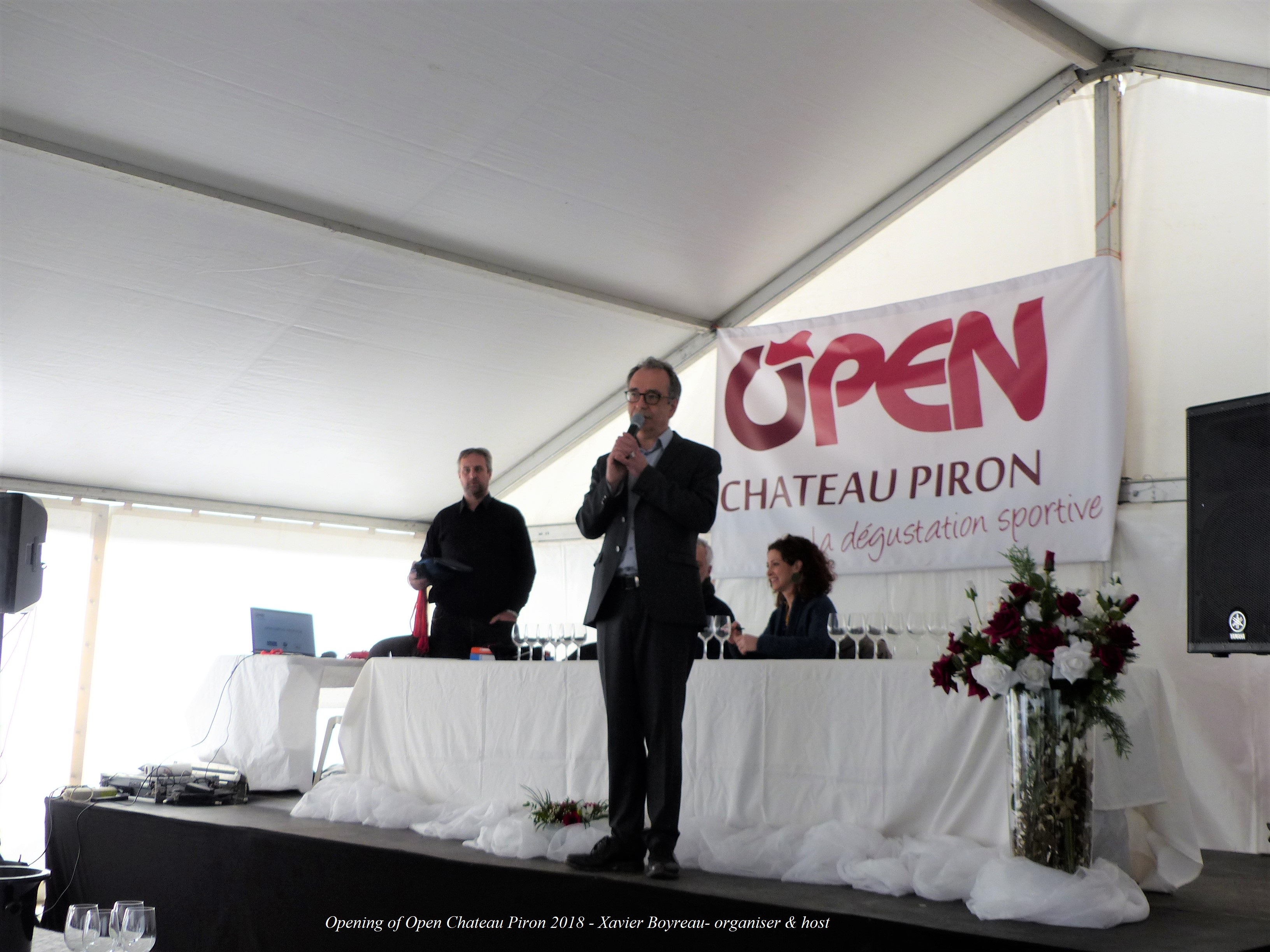 Open Chateau Piron is a blind wine tasting tournament modeled after the traditional sport competition and lasts for a day. There are two categories – «amateurs» in the morning and «professionals» in the afternoon– a total of 60 2-men teams. It is up to their members to decide which group to join- based on their experience and qualifications.
When asked why the event is competitive, here is the explanation – every team has a set amount of time to give answer to two questions:
From which French AOC the wine comes from- two minutes time to give an answer
Which is the vintage of the wine- thirty seconds to reply.
The voting system is entirely electronic!
The wines that each of the participants tastes are as follow: 2 white, 3 red and 1 sweet wine. 
Can you imagine the deep knowledge of French wines that the competitors must really have- as the number of French AOCs related to wine & spirits is ~ 420!
For those who want to test their skills without joining the main competition there is Open Chateau Piron OFF, where the same wines are served. Some participants shared that to do Open Chateau Piron OFF in previous editions helped them to train themselves.
https://www.openchateaupiron.fr/
***
JUNE, 24. OPEN CHATEAU PIRON 2018
Apart from the great tasting experience that Open Chateau Piron is, another very beautiful point is that that is the place where man can meet so many amazing people- wine lovers! Everyone his own terroir, history and experience!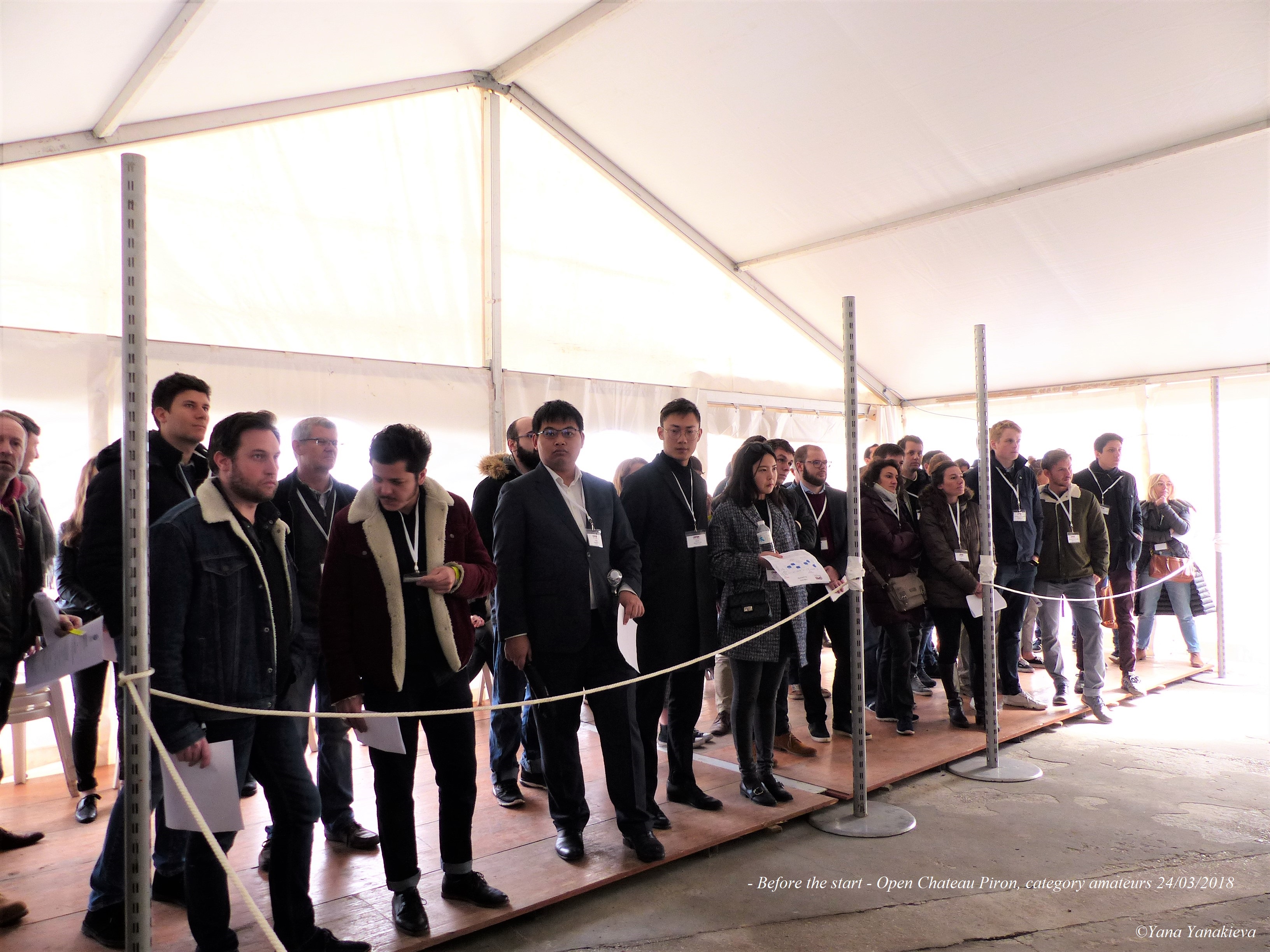 The journey starts at 9:15 am when with Alexandre MORIN (http://levinlemportera.com/) we hit the road. The conversation. Man can rarely experience such fresh morning wine conversations ! It is Saturday, 9 am, coffee time 🙂 Let's say it : I am travelling with the animator of Open ! First impressions for the future ambiance.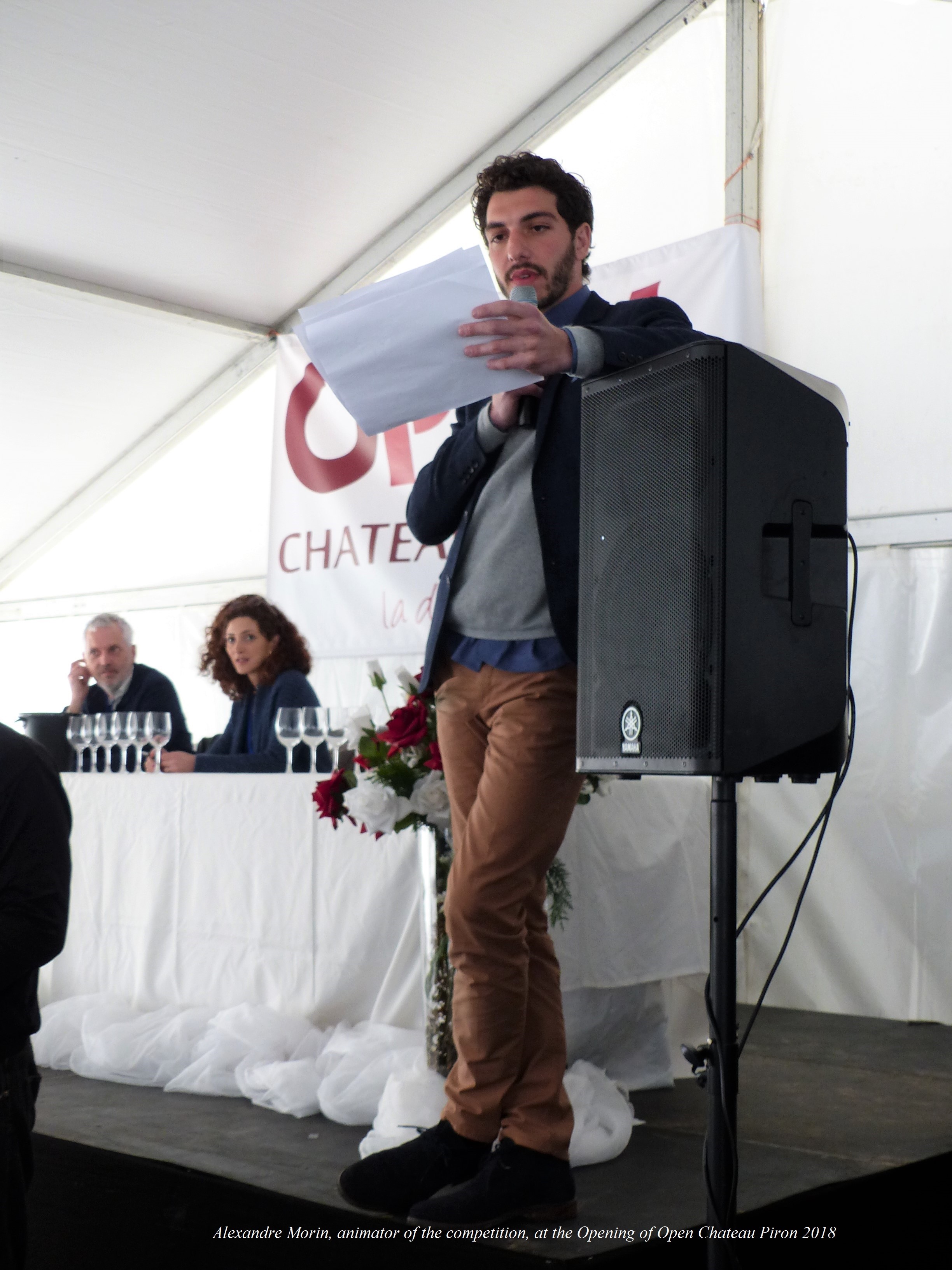 Arriving and meeting straight Diala YOUNES LAVENU ( https://www.oenologuesdebordeaux.com/) and already both of us we are junping into another conversation. It is with a participant, can say the most true one – since the beginning she participates in all editions of Open Chateau Piron. On my question, how does she train herself, she explained she is a member of a «feministic wine club», whatever this should mean! There is already some peps in the air. It is 10 in the morning 🙂
First exchange with Henry CLEMENS (https://vinvisibles.wordpress.com/)  who told me: « Tu vas voir, c'est génial! Tu vas t'amuser. C'est l'endroit où le vin est désacralisé» 🙂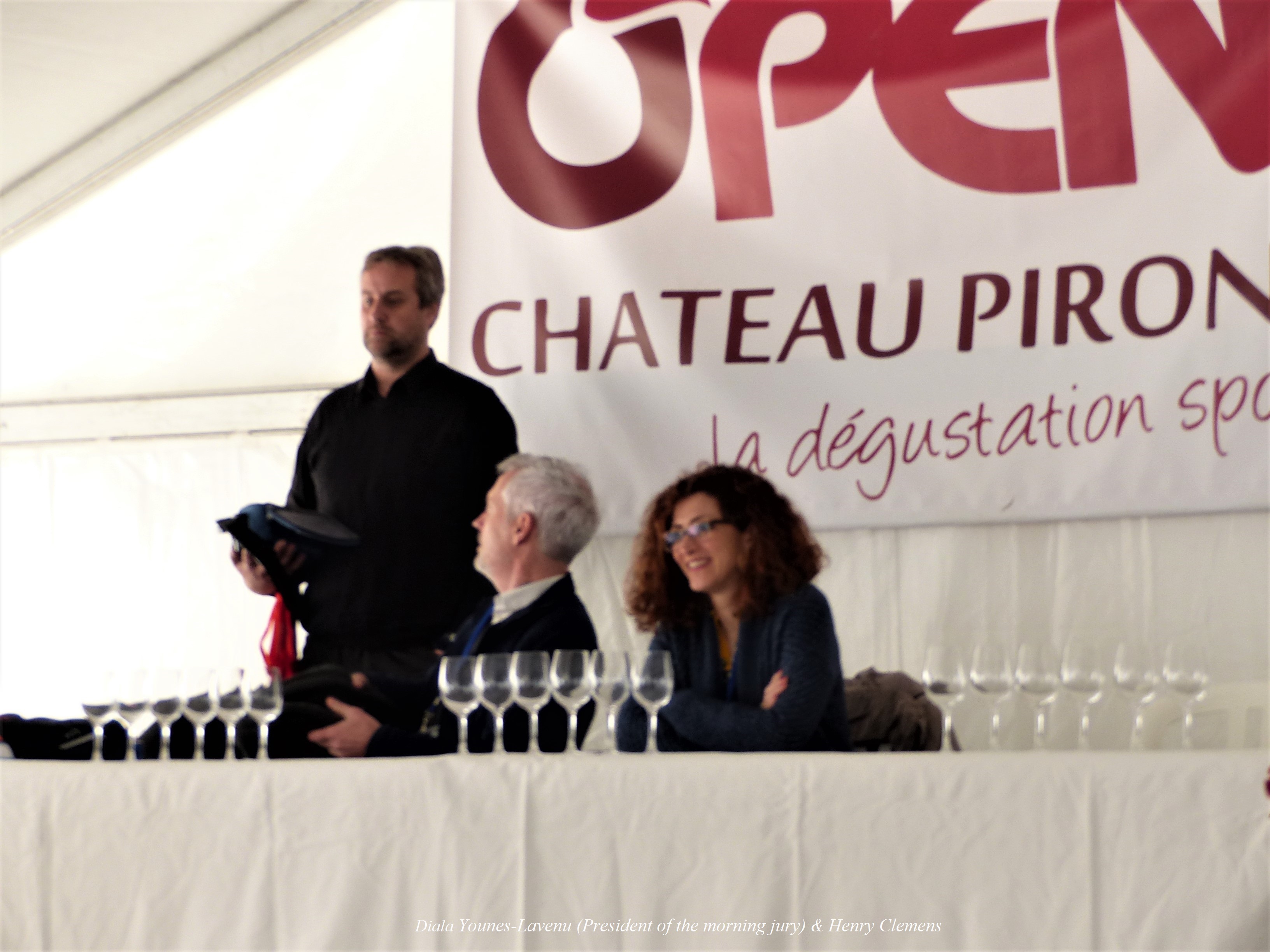 It was time for the opening of Open Chateau Piron 2018. And time to meet up some of the participants, too.
In the « amateur » category :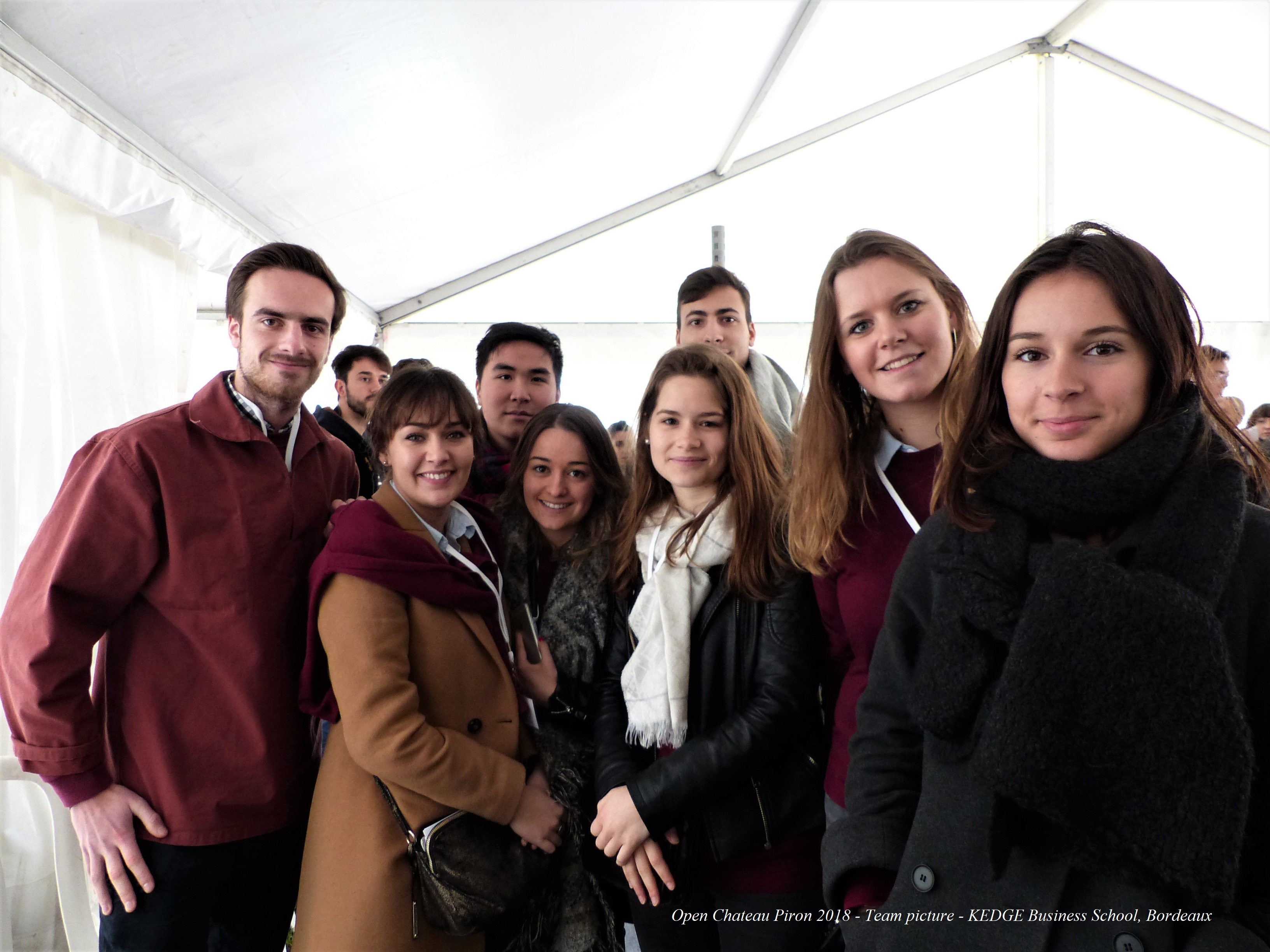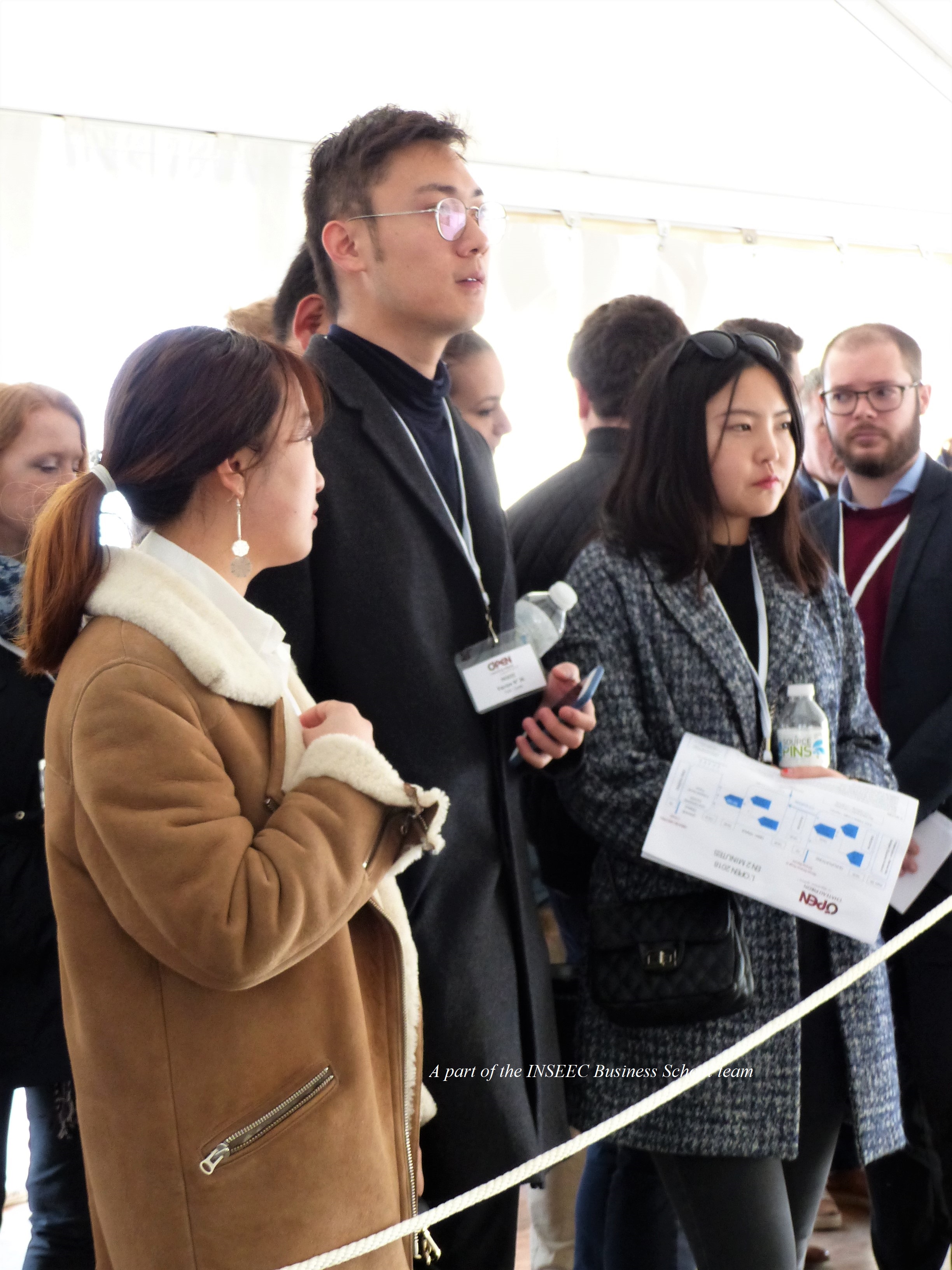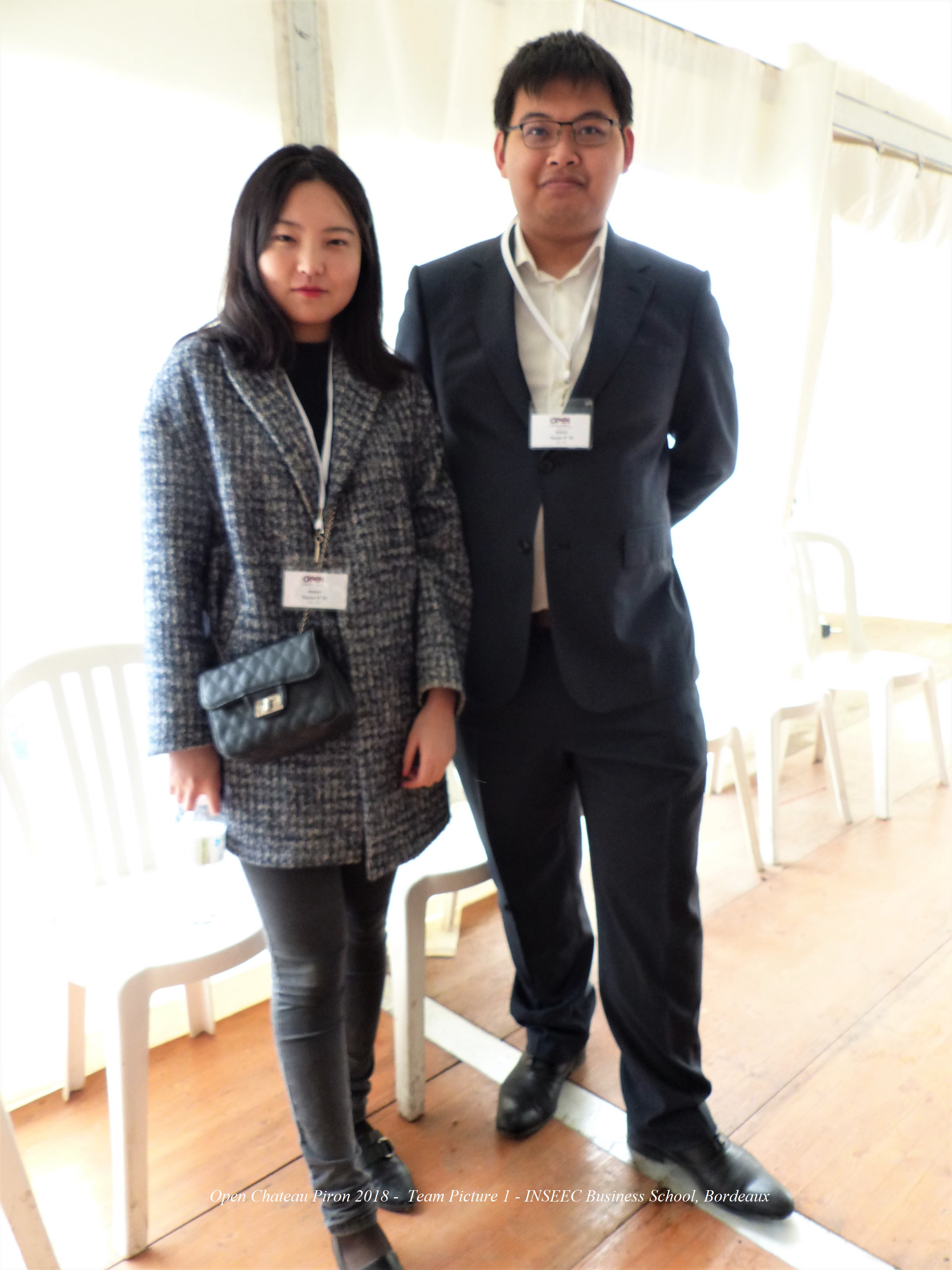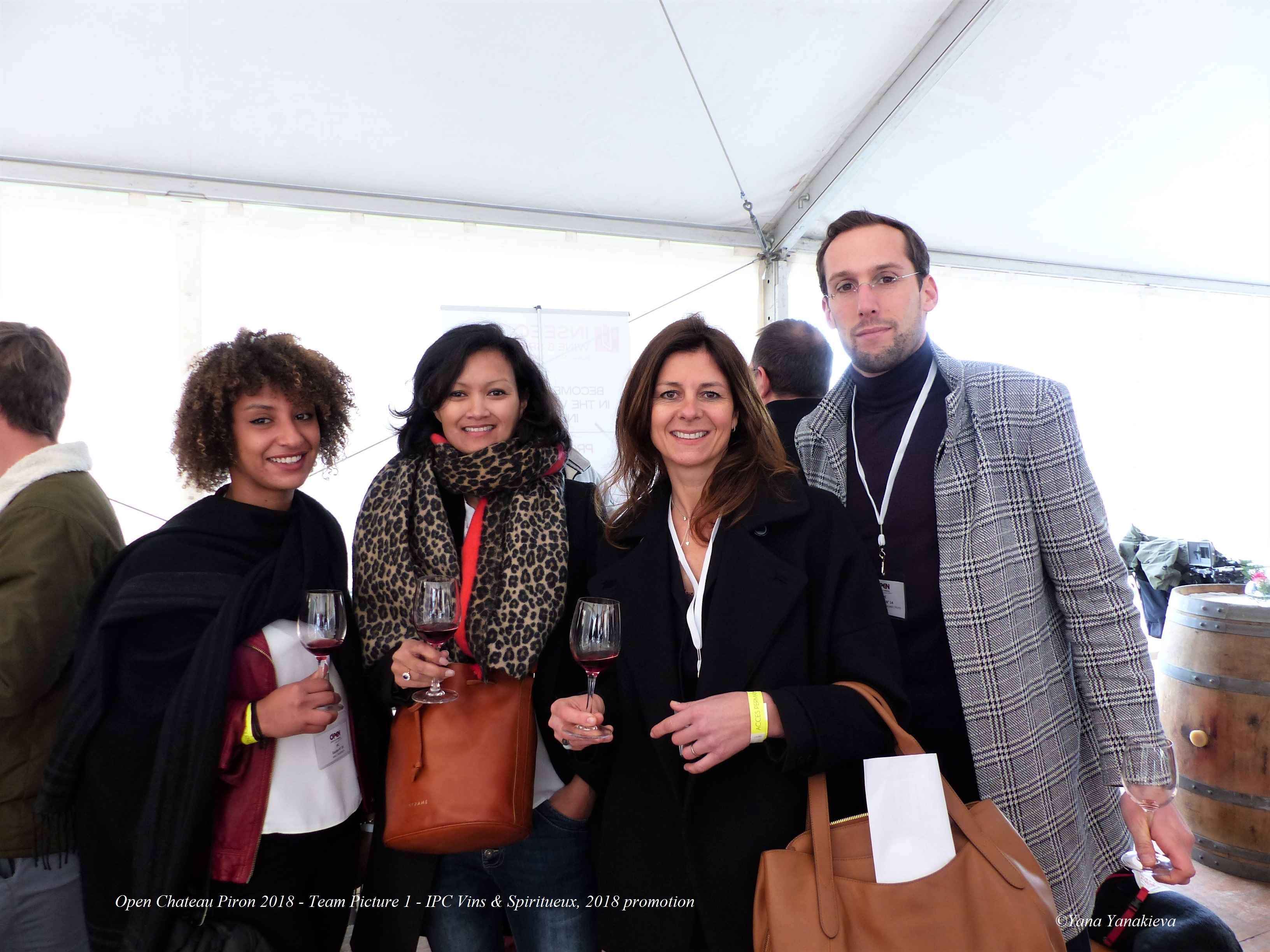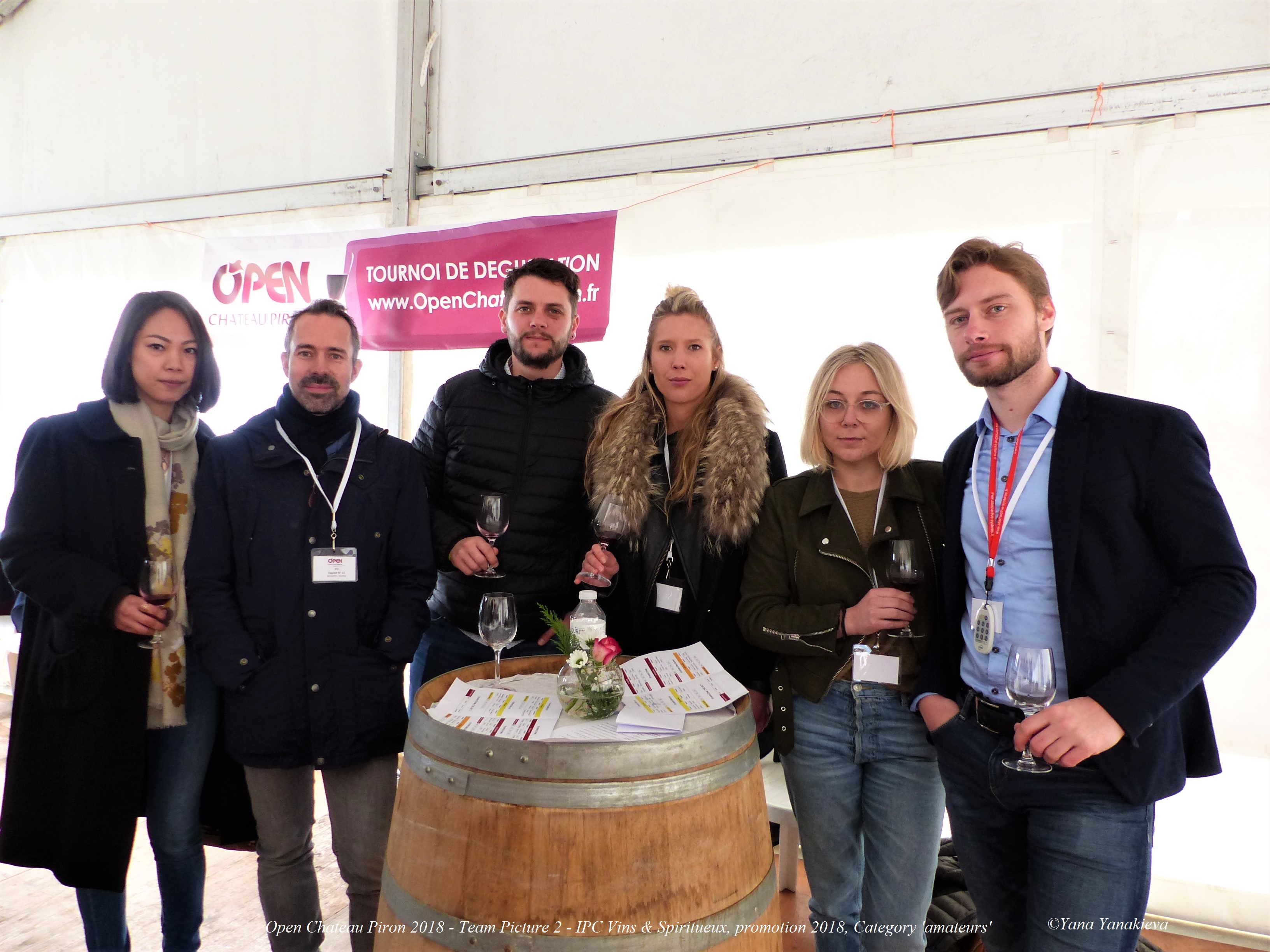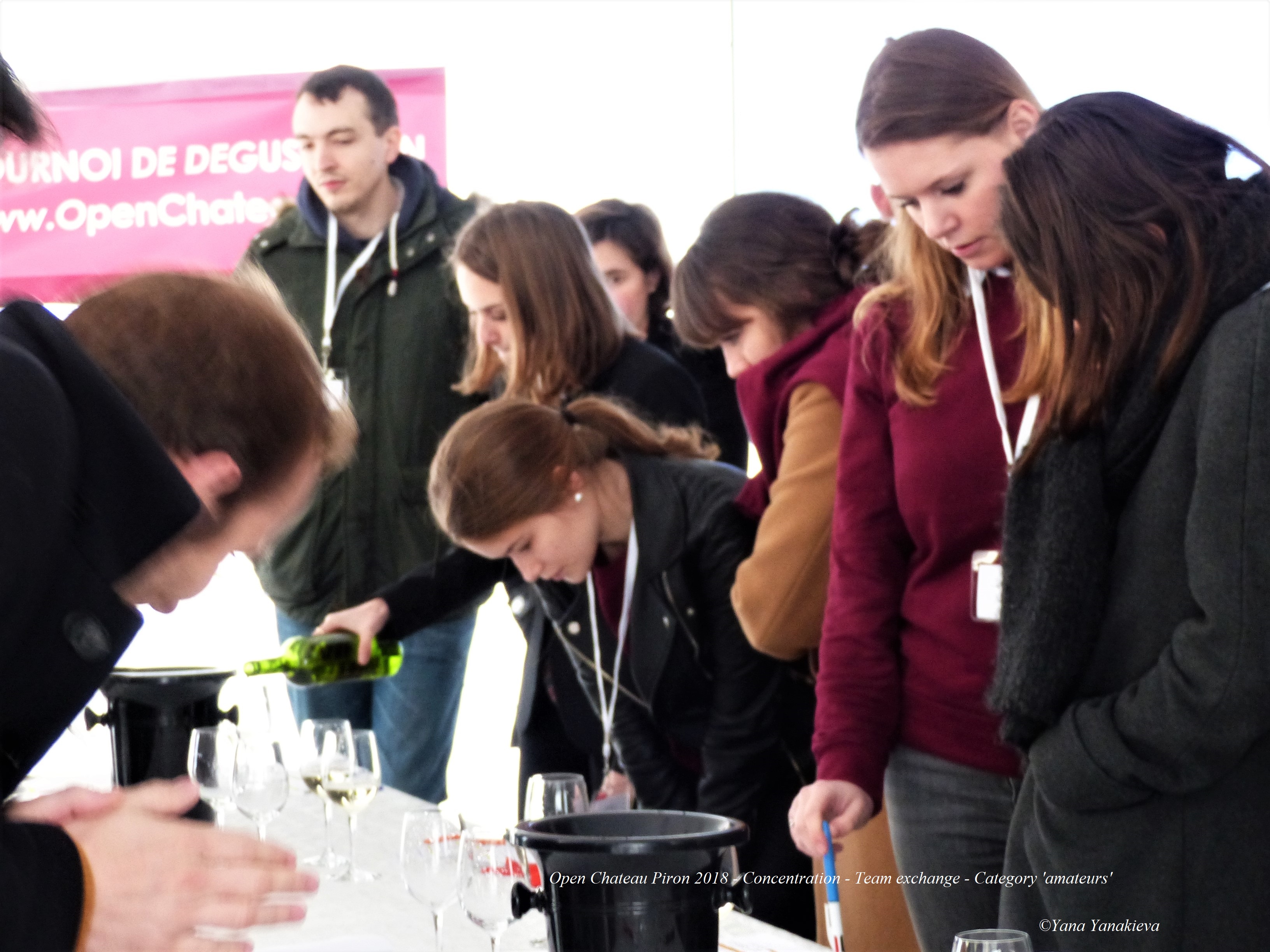 In the category « professionals »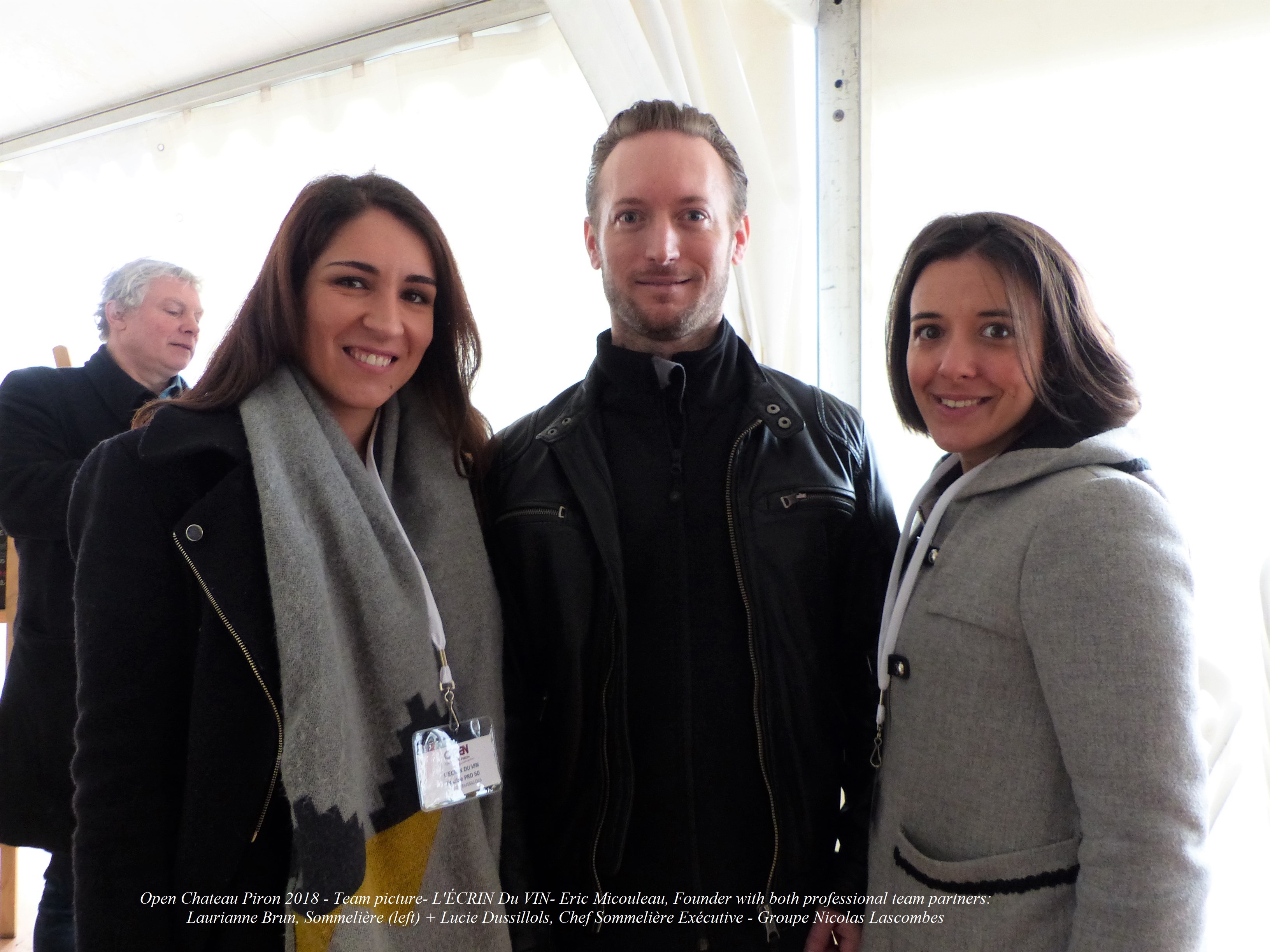 L'ÉCRIN du VIN, partner of the event, with founder Eric MICOULEAU ( https://lecrinduvin.fr/) and the tandem : Laurianne BRUN- Sommelière (https://laurianne-brun-sommeliere.fr/)  & Lucie DUSSILOLS- Chef Sommelière Exécutive – Groupe Nicola Lascombes (https://www.nicolaslascombes.fr/)
The first part is over and here the results:
CLASSEMENT  AMATEUR
>1:Team19–MARNIESSE/BORDAS
>2:Team28 –KEDGECROSET/DELBARRE
> 3:Team 13  – IPC BELLISI / TANG
LE CLASSEMENT GRANDES ECOLES
1: Team 28 – KEDGE CROSET / DELBARRE
2: Team 13 – IPC BELLISI / TANG
3: Team 32 – KEDGE BYRNE / SPURGEON
Delicious lunch break carefully prepared by Restaurant LE PHILOSOPHE in La Brède <3  With Alexandre, Diala and Henry: four of us wine & jury accomplices.
Then: spending time in the wine cellar of the property and discussing with Lionel BOYREAU, the wine grower of the family, about terroir, wines and vintages. Capturing the both « engines » of Open Chateau Piron- the brothers Lionel (on left) & Xavier (on right).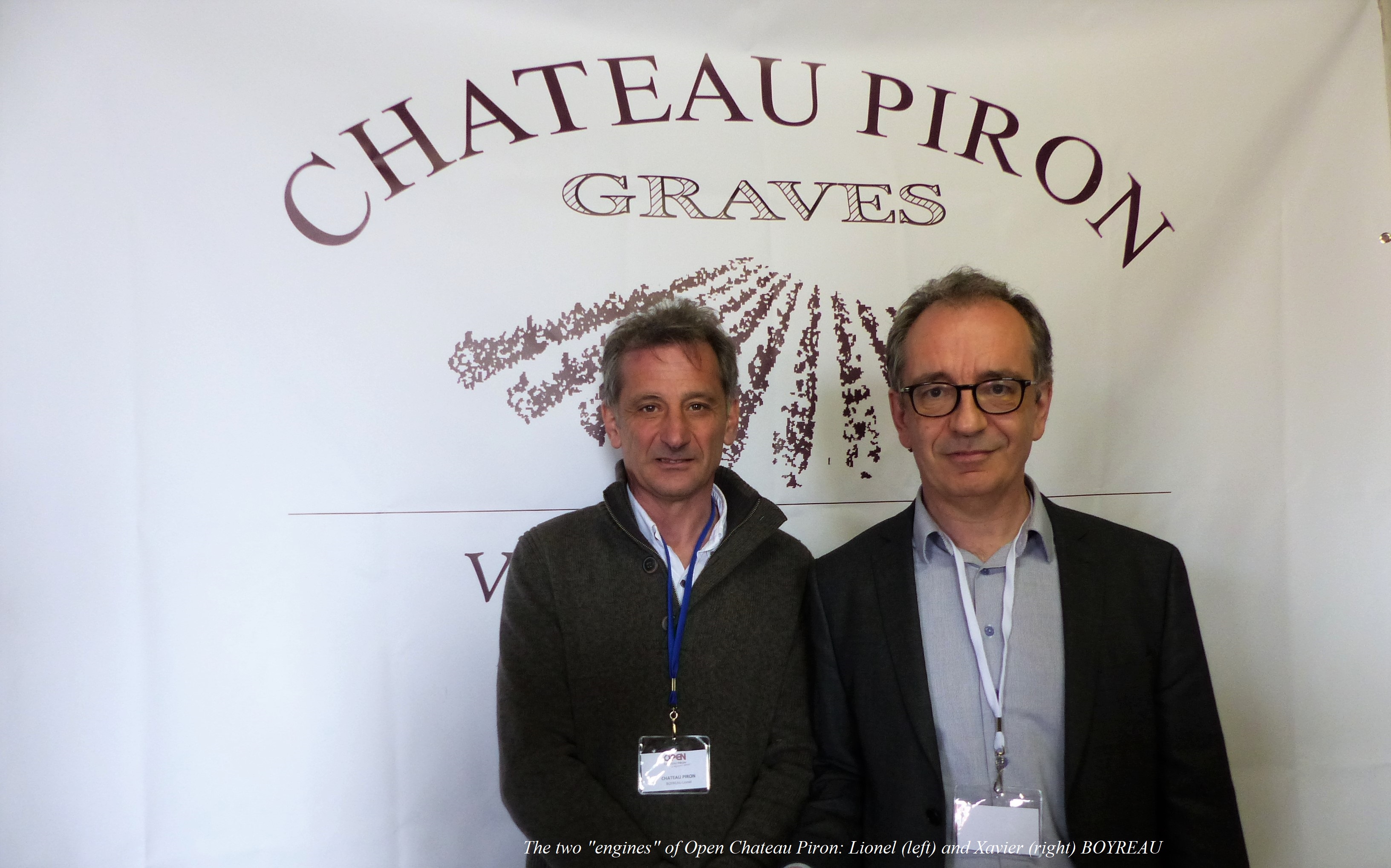 Always in the wine cellar- meeting Nathaël SUILS from SUILS/SUILS team- the winner of Open Chateau Piron 2017. Talking about wines & sports and namely the best ways to eliminate the extras when you are «un bon vivant» 🙂
Little relaxaxion with the music of L'ensemble JOGLAR before jumping into the second part.
I can only share how I personally lived the tournament.
The mission of the jury is the sweetest one! We have to appove the wines by tasting them bofore the service to competitors. We could also suggest food & wine pairings. Sitting right next to David DELIEUVIN (Président du Jury) from La Maison DARROZE and to Alexandre DE MONTESQUIEU, the most experienced among the members of the jury! Going deep into gastronomy! And on the finale are:
PODIUM FINAL :
> 1 : Team 19 – MARNIESSE / BORDAS
> 2 : Team 28 – KEDGE CROSET / DELBARRE
> 3 : Team PRO 57 – LE MENN / REDON
PRIX DU JURY (food & wine pairing)
> Team 27 – DUSSANS / COURSEAU
And Le Final! The both teams with such different profiles:  MARNIESSE / BORDAS– highly experienced enological tandem of wine taster belonging to Le Tire Bouchon Attitude Club (one of the best tasting clubs in France) & the very young and in fact already experienced team CROSET / DELBARRE, representing KEDGE Business School, Bordeaux. They became the winners in two other categories: RED & WHITE Scarf- the best tasting team on red & white wines!
I can only THANK to all of these amazing people who make possible Open Chateau Piron to be! The tournament by itself wheted my appetite of a wine taster and competitor. And the happy news came at the end: from now on the «classic» editions of Open Chateau Piron will be held every two years, so the next edition on which I could participate is in 2020 and I have whole two years to prepare myself and to find a team partner 🙂
The 2019 Open Chateau Piron edition is reserved only for the winners of the previous « vintages».
I can't hide also that the wine of Château Piron inspired my tasting receptors! And I took my time to develop a Sunday family bruch concept. Here it is: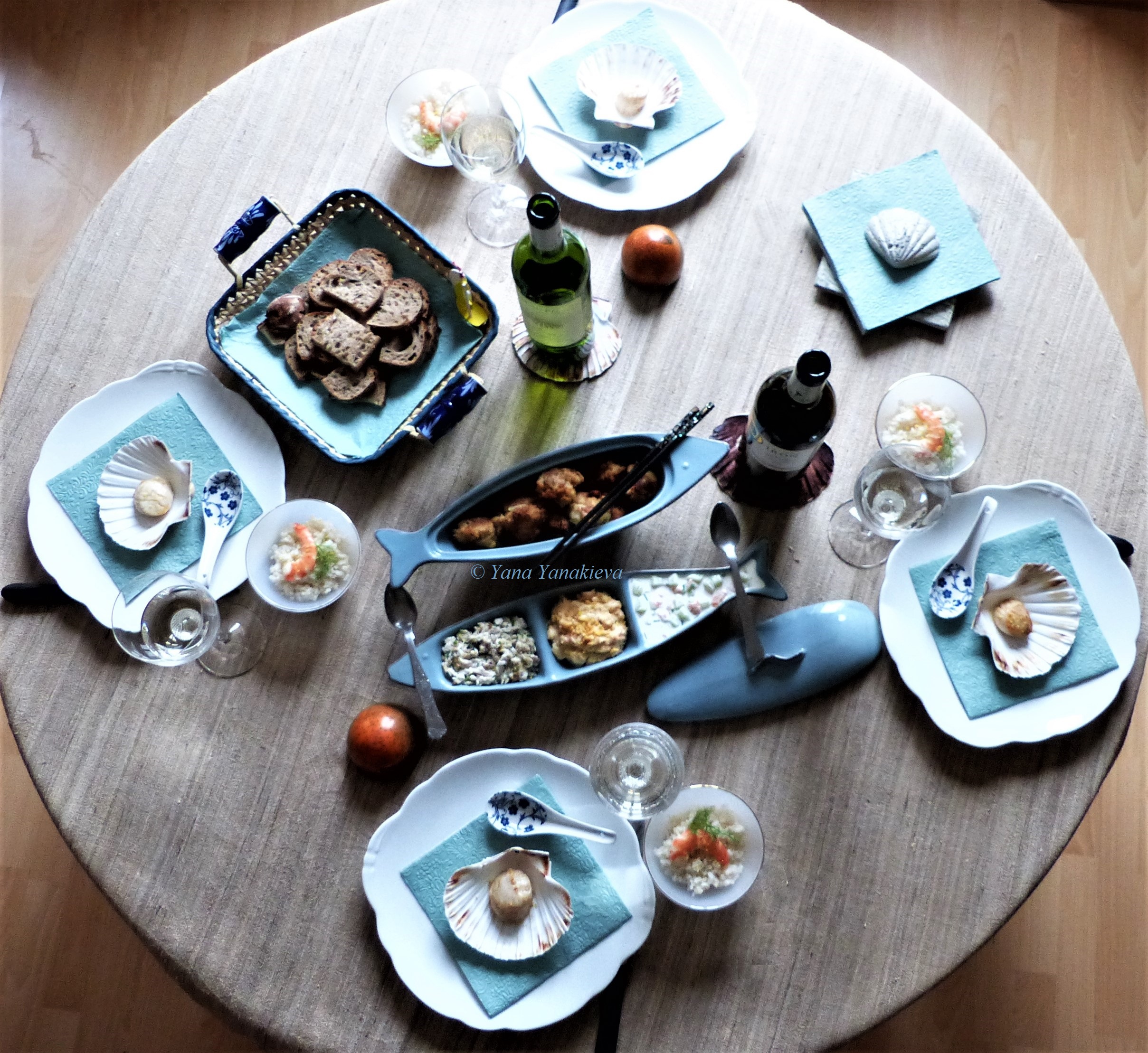 Crab leg meat & home mayonnaise paste & Steamed mackerel & cheese: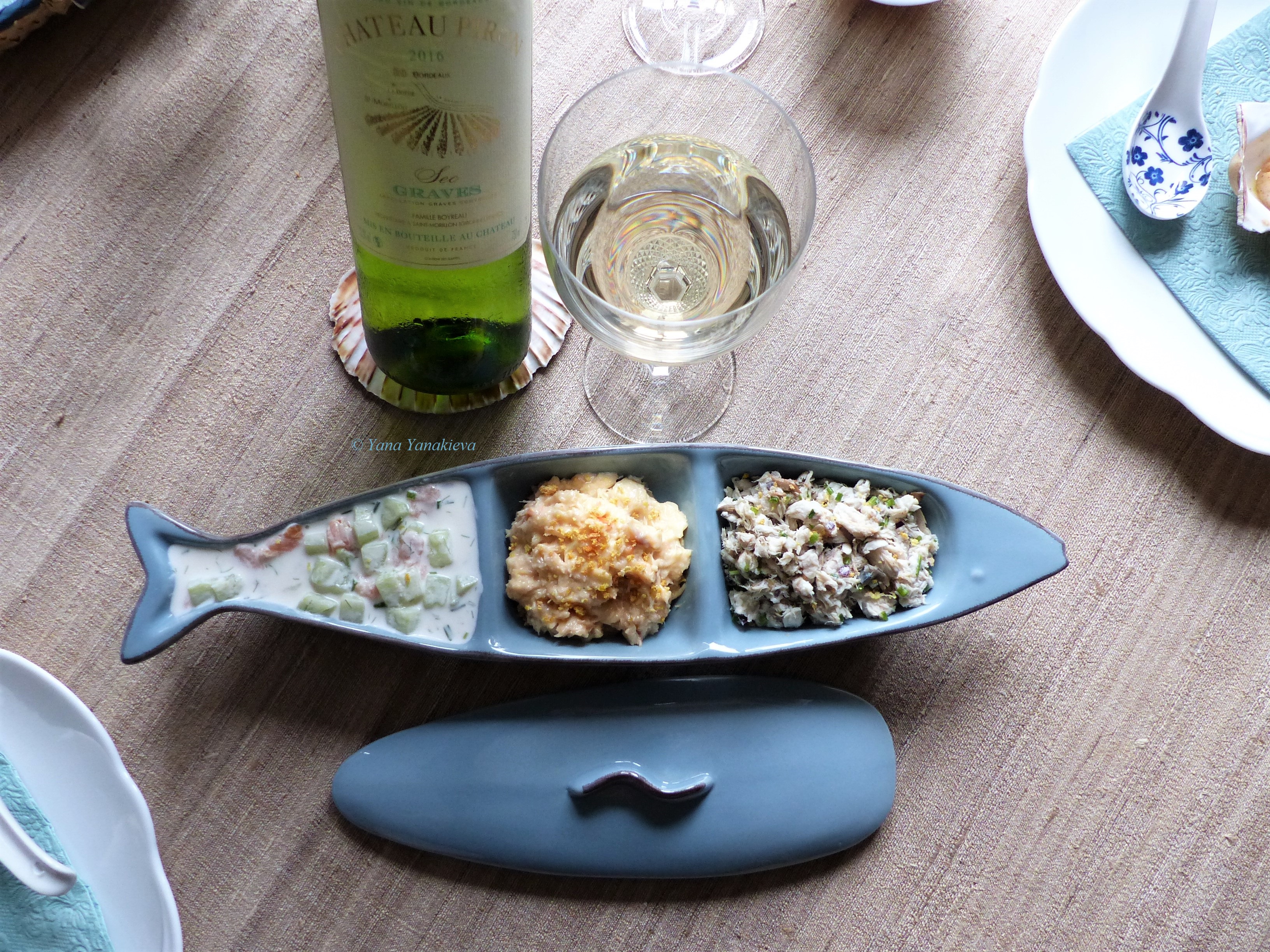 Fresh Spring salad: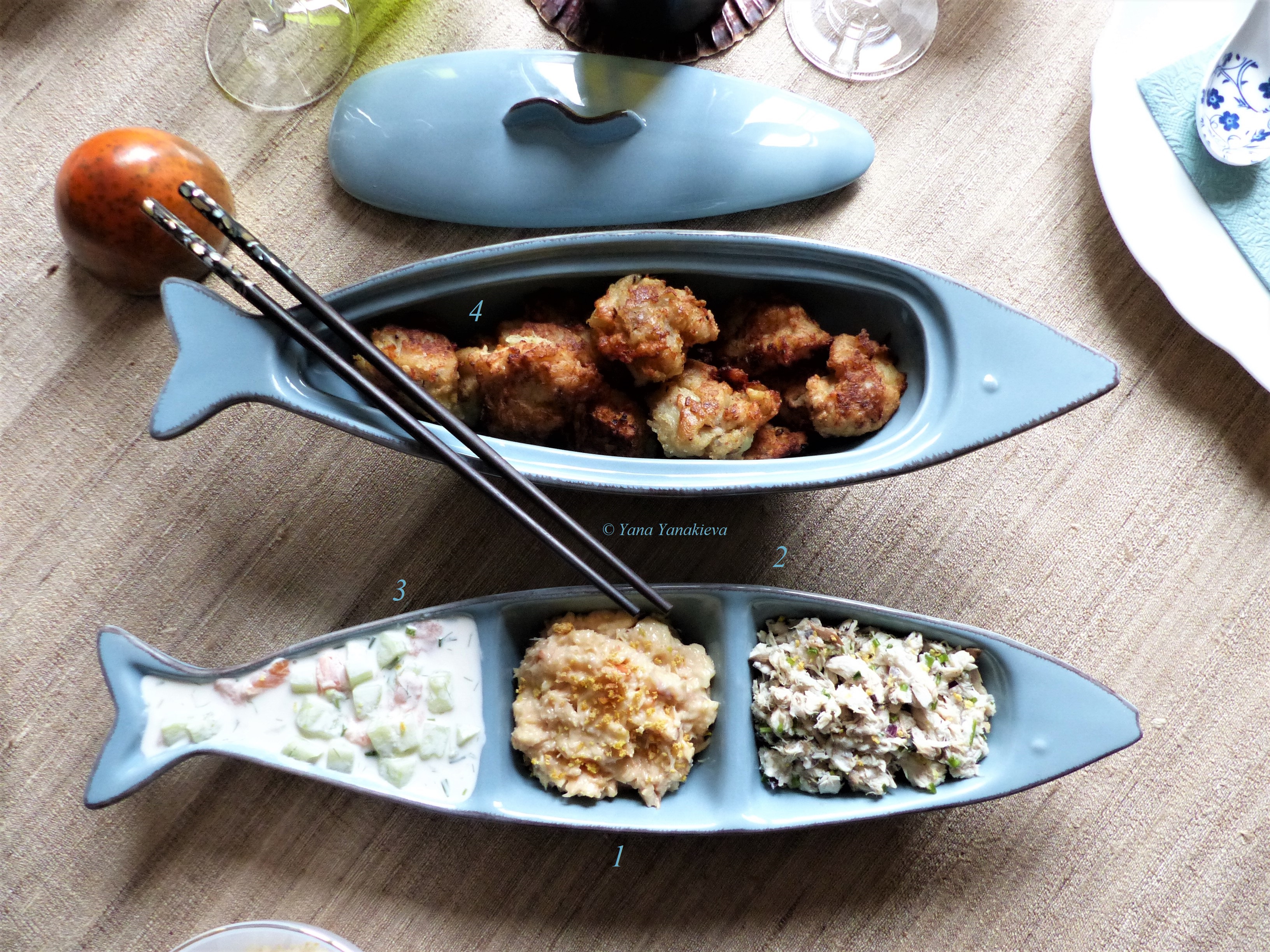 Fish croquettes: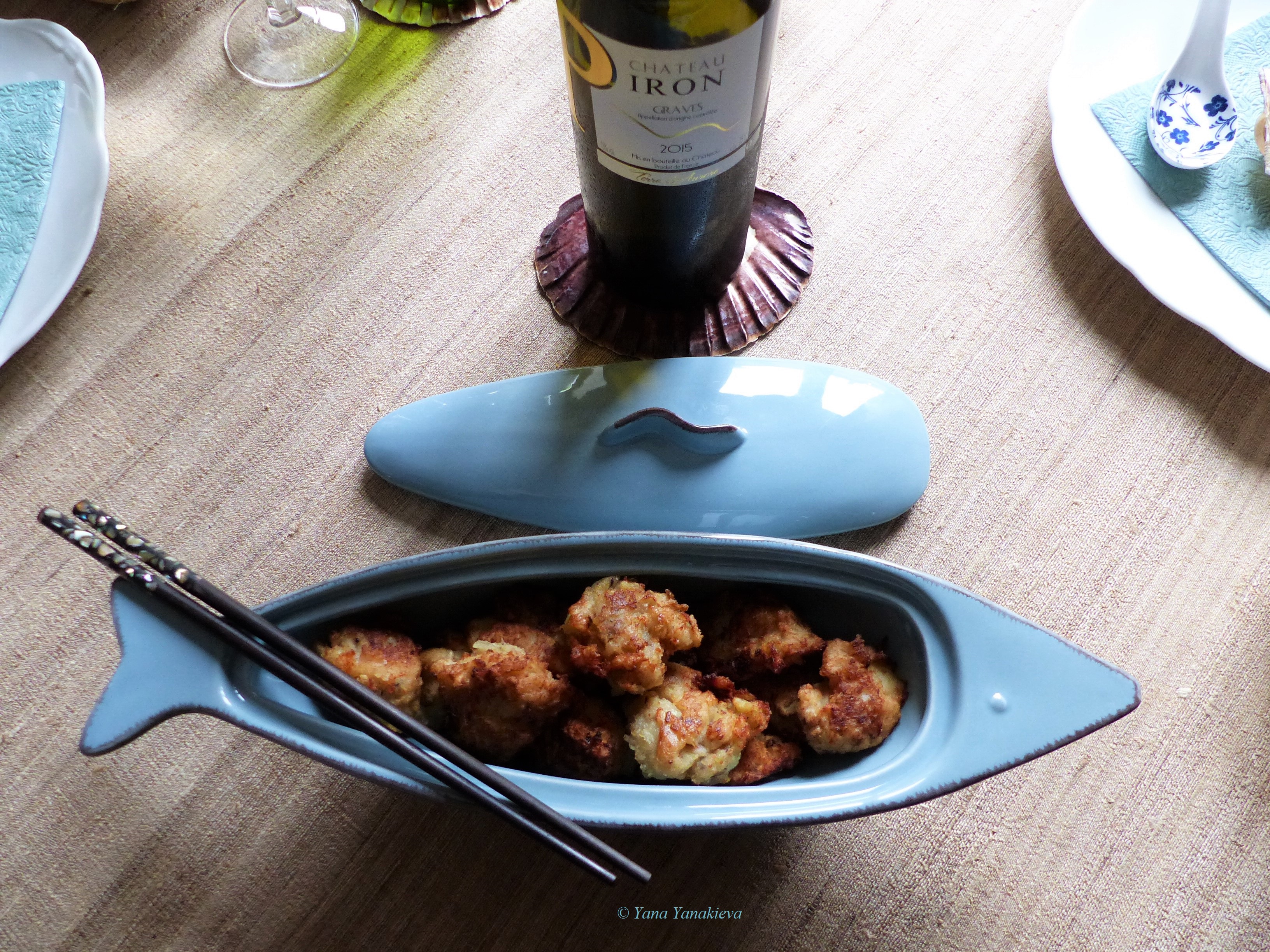 I really enjoyed tasting both Château Piron Blanc! Juicy, fresh & playful Sauvignon in the traditional cuvée. More roundness & complexity in the second. <3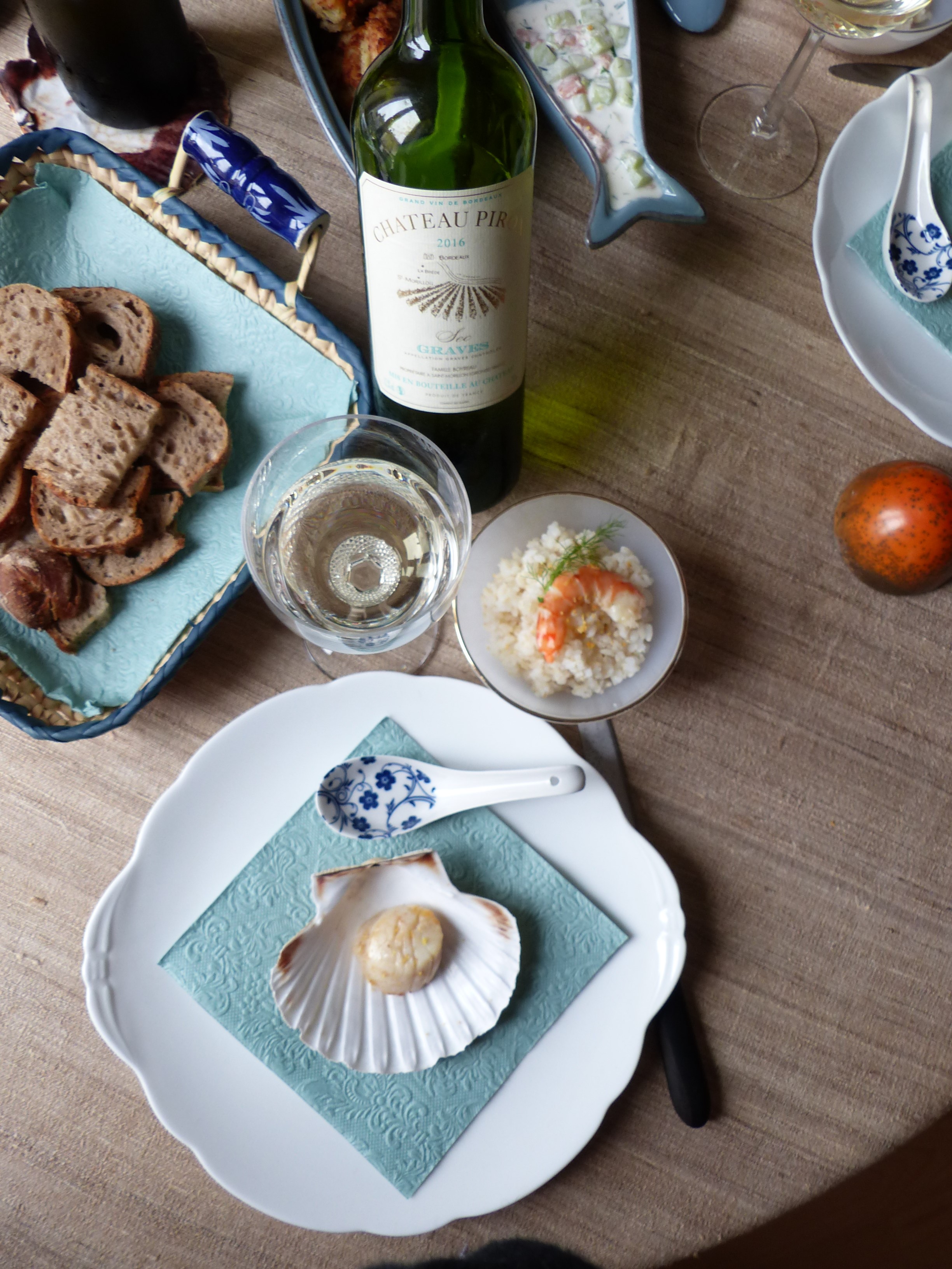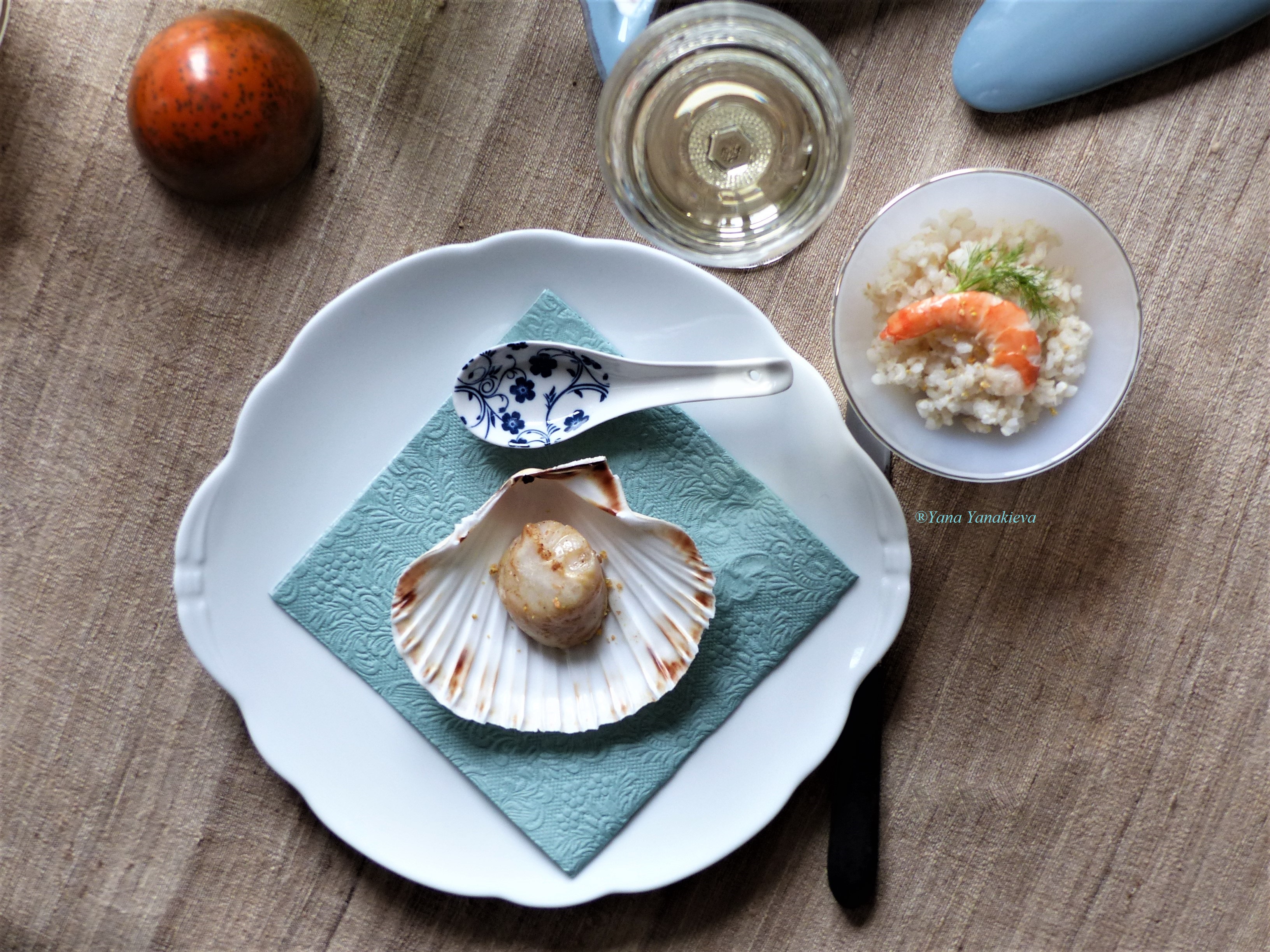 In  this  competition  the  WINNER  is ME 🙂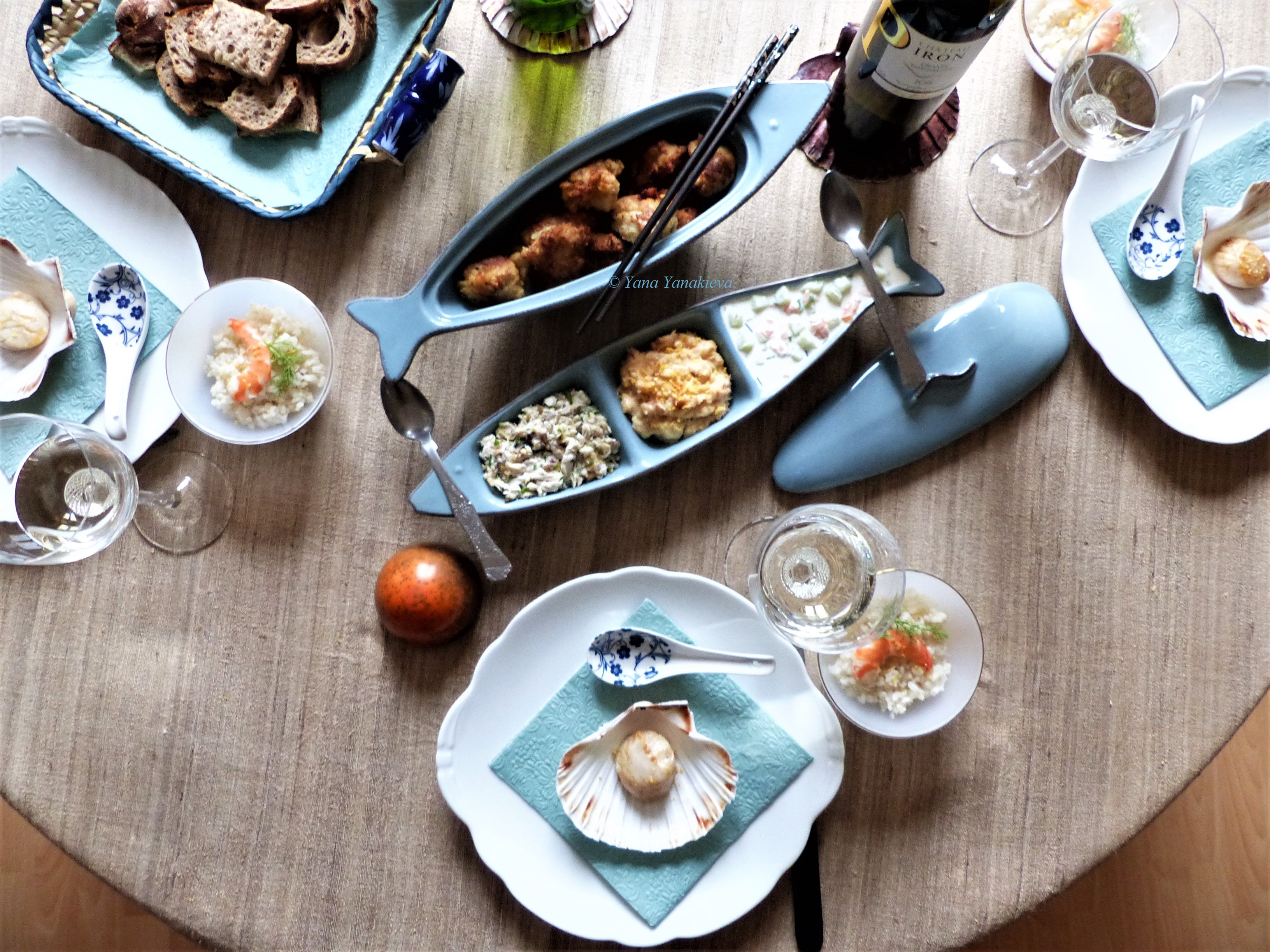 http://chateau-piron.fr/